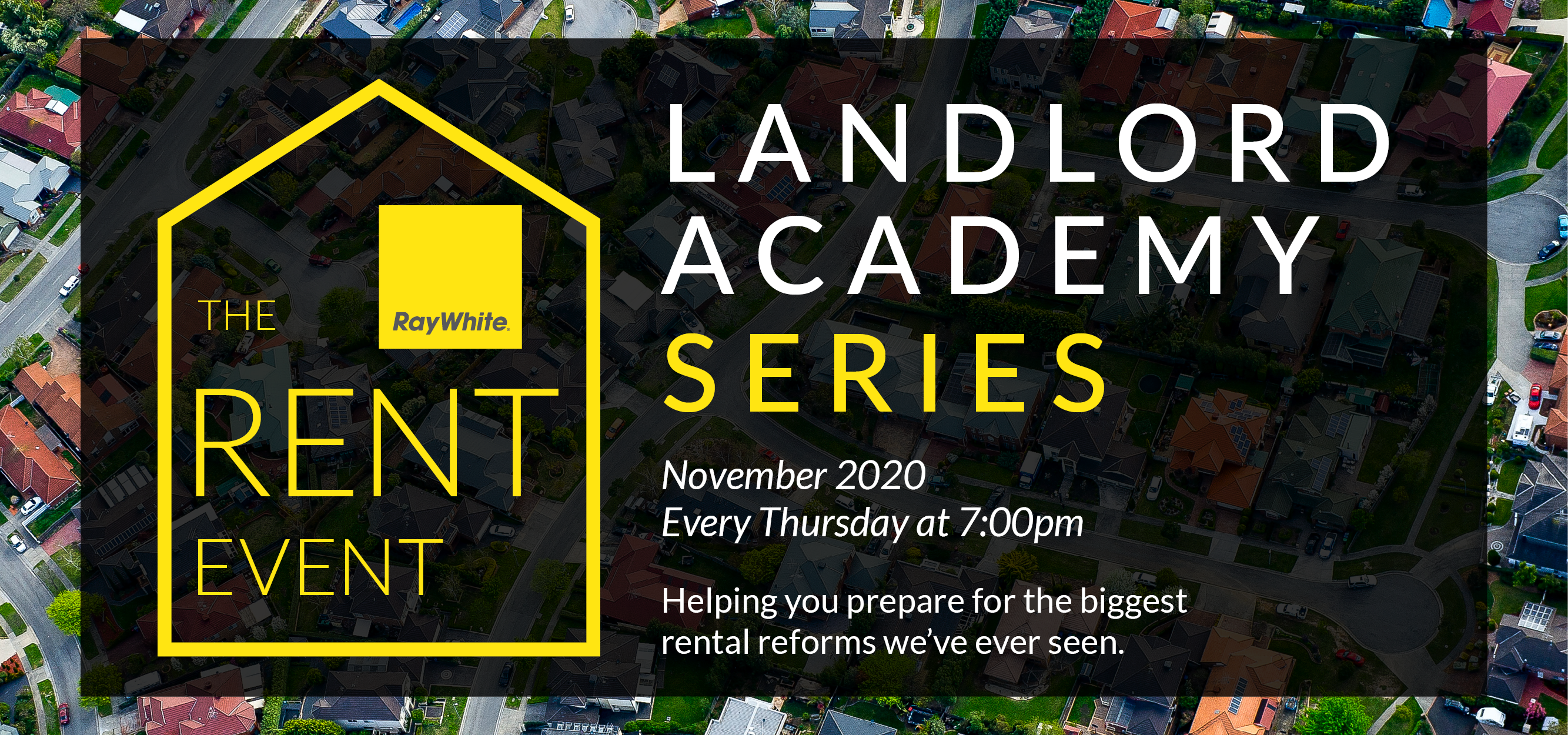 Register for the Ray White Landlord Academy
Simply register to join, watch, and participate in your free Landlord Academy education series!
Now in its fifth year, the Ray White Rent Event has become a significant part of our annual property management calendar – and you're welcome to join us. Our 2020 event takes on its new form as the Landlord Academy Series, designed to upskill landlords through a series of free weekly online sessions hosted every Thursday evening throughout November – all for you to enjoy from the comfort of home.
The Landlord Academy Series is about one thing and one thing only – free education and support for all New Zealand landlords, whether you're an existing client of ours or not.
Over the next six months, landlords will face some of the biggest reforms of the rental industry they have ever seen. There will be almost 100 new rules and requirements implemented to the Residential Tenancies Act – all of which will have a big impact on a landlord's responsibilities and the way they must operate.
Are you ready for the biggest changes we've ever seen?
Are you prepared?
The Landlord Academy Series is here to help!

For landlords wanting to engage in our free education and resources – simply follow these four easy steps:
Register your details through our contact form located below
Receive your immediate confirmation to confirm your successful registration
Diarise time in your calendar now for 7pm every Thursday across November
Sit back, relax and await your email with your live session link to click and join! (these will be emailed the day prior and day of each weekly session to ensure it's nice and handy)
RSVP Here:

Part 1 – Thursday 5th November – 7pm
Introduction to Tenancy Management in 2020 and Beyond

Special guest: Peter Wolfkamp – 'The Resident Builder' Newstalk ZB
In this opening session, we'll provide a broad overview to help both landlords and their tenants achieve better tenancy outcomes. In particular, we'll highlight existing compliance requirements, how to manage these, and the risks associated if you're not ticking the right boxes
Future compliance deadlines – what's coming & how you can prepare
What are the new rules already in place affecting rent increases?
The importance of the first step – selecting the right property
Getting an investment property 'rent-ready' to remove your risk
Tools and steps to help you easily manage today's compliance requirements
Tenant inductions and getting the foundations right for a harmonious tenancy
Part 2 – Thursday 12th November – 7pm
Healthy Homes Standards and RTA Amendments Act Introduction

Special guest: Joanne Rae – Real Estate Institute of New Zealand
The second part of our series will begin to delve a little deeper into the upcoming legislation and in particular, the Healthy Homes Standards. We'll clearly outline what's required and the manageable steps you can take to get your property sorted.
Healthy Homes standards and how to get your rental property ready
Advice on how to easily manage the work that may be required
What are the exemptions to the rules, will I qualify?
The reality of compliance – it's not as hard as you may think!
Are there options available to help cover any possible compliance costs?
The key considerations when looking at a new investment property
Part 3 – Thursday 19th November – 7pm
The RTA Amendments Act 2020

Special guest: Craeg Williams – Director – Tenancy Practice Services
The third part of our series dives into the RTA Amendments Act 2020, explaining how this will affect landlords when the majority of its components take effect in February 2021.
There are significant changes on their way for landlords, including new rules around minor alterations, termination notices, rent increases, lease assignments, increased financial penalties, and more.
What is the RTA Amendments Act 2020 and what it will mean for you
The reality of what's coming – it's not as bad as some commentators may suggest!
How you can manage the new layers of work involved with each change
How the Act changes the responsibilities of both landlords and tenants
The consequences associated with non-compliance or minor breaches
Will the RTA Amendments Act 2020 impact the tenancy market?
Part 4 – Thursday 26th November – 7pm
The Future of Property Investment

Special guest: Brian Greer – CEO – Loan Market New Zealand
The fourth and final part of our series will take a deeper look at the financial side of property investment, and the real virtues that remain in this space. There has never been a better time to grow a rental portfolio, however, some investors still make the same common mistakes which this session is designed to help prevent.
The importance of debt structures, interest only vs principal & interest
Interest rates – where are they now and where are they heading
Long term trends and benefits using property as an investment tool
The financial process for turning your own home into an investment property
How to get into property investment if you don't believe it's currently possible
How to find out what investment goals may be achievable for you